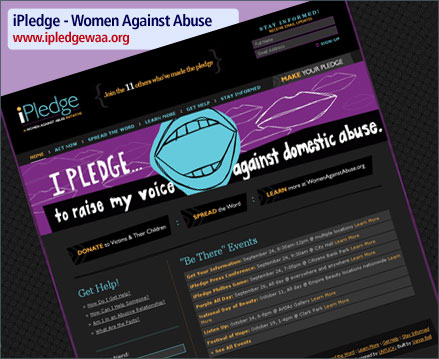 Women Against Abuse approached John and Amy Saal of UNTUCK Design to create a new domestic violence public awareness campaign. The wonderful result was iPledge—a campaign supporting a citywide anti-violence movement which calls on ordinary Philadelphians to help end violence at home and in the community. Recognizing that unhealthy relationships at home not only destroy families, but compromise the health of our entire city, the effort is committed to raising awareness of domestic violence and all its consequences while making our neighborhoods safer. John Saal was kind enough to ask me to assist in the development of the campaign's new website.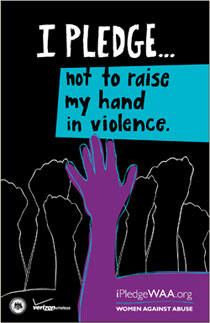 Your help is needed in many ways. Now is the time to act! You can contribute, volunteer, donate comfort items and amenities for victims and their children, attend workshops or even join the WAA staff and make a tangible difference in the lives of domestic violence victims and their children. You can also be a key voice in halting legislation that is currently threatening the lifeline of many local agencies.
So take action against violence at home and in the community. Join the effort to eliminate domestic abuse and violence in our community. Make your pledge today and be sure support Woman Against Abuse on Facebook.
If you are in an abusive relationship, call the Philadelphia Domestic Violence Hotline at 1-866-SAFE-014 to speak to a crisis counselor.
Services Provided:
Web development (XHTML and CSS)
PHP development