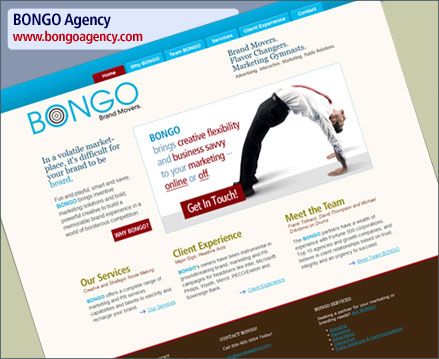 There's a brand new beat in town and its name is BONGO.
BONGO is a hip, new agency run by two experienced ad men—Michael D'Antonio and David Thompson. Moving away from the concept of a small agency as a glorified design house providing production services, BONGO's mission is to offer big agency expertise in brand development, advertising, public relations, interactive and marketing—while emphasizing agility, flexibility, and, above all, detailed attention to your brand. It's a savvy business model and one I think will catch on quickly. Afterall, why deal with an impersonal Big 10 agency when you can get the same strategic expertise, creative, and marketing vision from a company that actually cares for your business like it was their own? Yeah—I don't know why either.
These guys are great to work with—so take a look, and if you're seeking results, give them a call.

Services Provided:
Strategic consulting
Project management
Information architecture
Web design
Web development (standards-based XHTML and CSS)