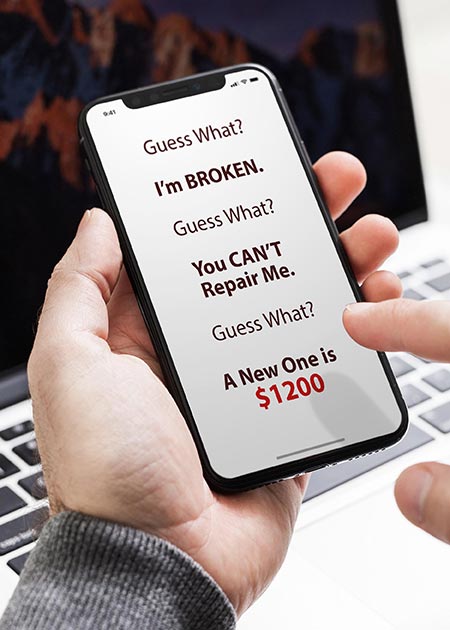 This year, Pennsylvania could be the first state to pass Right to Repair. We have a chance to guarantee our right to repair electronic equipment, like smartphones, computers, and even farm equipment. And we have a chance to protect local repair jobs—the neighborhood repair shops that keep getting squeezed out by manufacturers.
But, we need more legislators support Pennsylvania's bill. We need you to write and call your representatives now and ask them to support Right to Repair, and reference House Bill 1152 and Senate Bill 998 in your message.
We know from experience that phone calls or letters to your local representatives can make a big difference, so please reach out and ask them to co-sponsor the Digital Right to Repair Act. It's easy to do. Simply go to https://pennsylvania.repair.org/ and we'll track down your legislators' contact information for you.
We've heard from legislators that phone calls have the biggest impact, so please consider giving your representatives a call using our simple calling tool, on https://pennsylvania.repair.org/.
Let's make Right to Repair happen in Pennsylvania!
Common Questions about Right to Repair
What does Right to Repair do?
Right to Repair is simple. It requires manufacturers to provide owners and independent repair businesses with fair access to service information and affordable replacement parts. So you can fix the stuff you own quickly—and get back on with your life.
That sounds great! Who would be against that?
Well, manufacturers like John Deere and Apple don't like the idea. When your tractor breaks or your cell phone stops working, they want to be the only people who can fix it. And they get to set whatever prices they want for parts and service.
Is Right to Repair a new concept?
Nope! We already have right to repair for cars—that's why you can take your Ford into a local mechanic. They have all the same software diagnostics and service manuals that the dealerships have. This is the result of decades of auto Right to Repair legislation—laws that have been a resounding success.
How can I get involved?
It's time to fight for your right to repair and defend local repair jobs—the corner mom-and-pop repair shops that keep getting squeezed out. Write or call your legislator. Tell them you support the Fair Repair Act. Tell them that you believe repair should be fair, affordable, and accessible. Stand up for your right to repair in Pennsylvania!