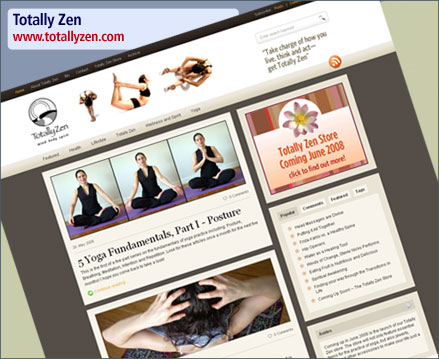 Totally Zen is a blog dedicated to yoga, healing, relaxation, and natural living — maintained by Philadelphia yoga instructor and massage therapist, Stephanie Churchill.
After a couple initial attempts collaborating with other designers and developers, Stephanie was referred to me by another client. We started the project by discussing the pros and cons of her previous blog theme and software. Much was good; some was bad; and a number of key features were missing.
The Blog Platform
As a blogging platform for the relaunch, we decided to use the newly released version of WordPress, 2.5.1. The price was right; WordPress is a free, open source blogging package. Furthermore, it's insanely easy to use. The new 2.5 release also has a beautifully revamped administration panel controlling a bundle of new or improved features. Since I've used and installed WordPress for clients for three years, I can attest to its value, and this new release is a gem.
New Features
As I mentioned, the old blog was missing a few key features found on better blogs. Here are some of the new capabilities supported by the relaunched Totally Zen blog:
Search
Flickr badge
Most popular posts
Most recent comments
Tag cloud
Video support
Automatic image resizing
125 x 125 pixel ad support
300 x 250 pixel ad support
Gravatar support
Special "Widescreen" format for homepage images
Feedburner support
Asides (mini-blog) support
WordPress Plug-ins
Anyone familar with WordPress will know about the large number of plug-ins available for the platform. For those out of the loop, these independently developed plug-ins (created by members of the WordPress open-source community), allow you to extend the capabilities of your blog and manage key aspects of its behavior from the administration panel. Smart use of plug-ins not only eliminates much of the need for professionals like myself to be called in to deal with the "small stuff" of everyday bloglife, but adds real value to your blog and your visitor's experience.
I have a personal set of favorite WordPress plug-ins, and fortunately, they all made it into this project (along with several others).
Here's the shortlist:
AddThis Social Bookmarking Widget
Helps visitors promote your website or blog by giving easy access to common bookmarking tools and social networking sites
Akismet
Akismet checks your comments against the Akismet web service to see if they look like spam or not. Spammy comments are tagged for moderation or deletion. I have one blog where Akismet has blocked over 10,000 spam comments. Far better than spending time deleting them manually.
All in One SEO Pack
Although WordPress is already very SEO-friendly right "out of the box," this plug-in gives the administrator the ability to fine tune elements of the site for even better search engine optimization.
Easy Tube
Pulls that YouTube video right onto your site where it's supposed to be.
flickrRSS
Places your Flickr badge or photostream thumbnails on your blog
Google Analyticator
Easy management of the Google Analytics code required to track and understand your blog's traffic and visitor patterns.
Google XML Sitemaps
Nothing is more boring that manually updating an XML sitemap. Do it automatically and notify Google, Yahoo, MSN and Ask.com without lifting a finger.
Most Commented
Keeping track and showing which posts have the most comments lets your visitors find the "hot stuff" faster.
Popularity Contest
The post-ess with the most-ess. Rank your posts by view popularity. Kick the information back to your readers, or check the numbers yourself and see what your readers like to read.
User Experience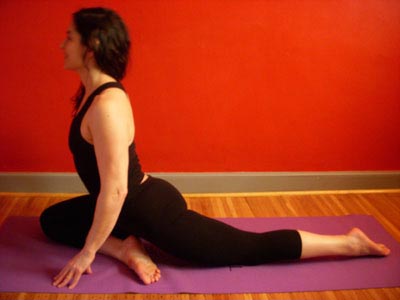 After deciding upon the new features and plug-ins to be included, we reworked the overall structure and user experience of the blog. Many of features mentioned previously had already greatly improved the blog's user experience, but there is always more to do. The blog's categories were fine-tuned to better reflect the goals of the site. A post tagging nomenclature was developed to complement the new categories and offer users an alternative path through the blog's content. External accounts for supporting services, such as Gravatar, Flickr, YouTube and Feedburner were established. Fit all of these elements together, and—Voilà!—a new blog that is far more flexible and friendlier than average. Much like Stephanie herself.
Services Provided
Strategic consulting
Project management
Web design
Web development
Information architecture
WordPress installation
WordPress database and content migration
Blog theme design modification
Copyediting
Training