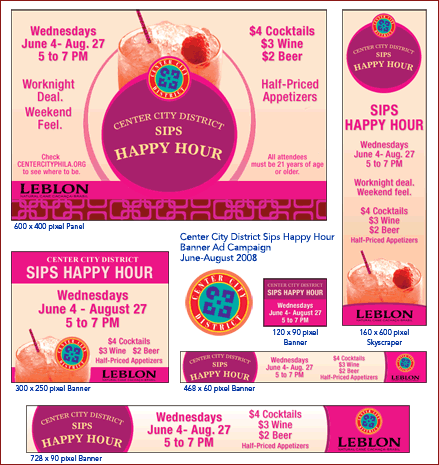 It's almost Summer again! The Center City District is organizing a series of Sips Happy Hours June through August for thirsty downtown Philadelphians—great happy hour deals at participating bars and restaurants throughout Center City.
Center City District markets these events through regional publications and websites, such as Philly.com, Philly2Nite, Philadelphia Weekly and WISQ. This set of banner ads will support the Sips Happy Hour and get the word out to Philadelphians. Each graphic was designed in the visual style of the events' print advertisements and other collateral to form the final piece of unified campaign across all media.
A cold drink with friends on a hot Summer's day is a nice thing! Maybe I will see you there!
Services Provided:
Banner Ad Design
Image Optimization
Download the full campaign sample sheet (PDF, 525 KB) and take a look up close.