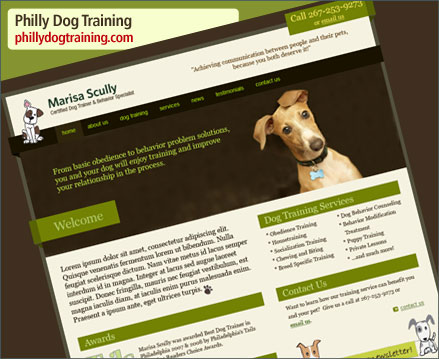 Training animals takes a special combination of kindness and patience—Marisa Scully of Philly Dog Training is endowed with generous amounts of both. Scully is a certified dog trainer and behavior specialist providing puppy training, basic obedience training, behavior modification, as well as solutions for aggression, anxiety and more.
Marisa works with all breeds and ages of dogs. Whether you have just brought home a new puppy or young dog or are looking for guidance on selecting a new family member, Marisa can help make the transition successful. Even if you have tried training your dog unsuccessfully in the past, often it just takes someone with her understanding and expertise to learn what makes your dog tick.
Philly Dog Training serves dogs and their owners in the greater Philadelphia area.
Services Provided:
Strategic consulting
Project management
Web design
Web development (CSS & XHTML)
Information architecture
Search engine optimization