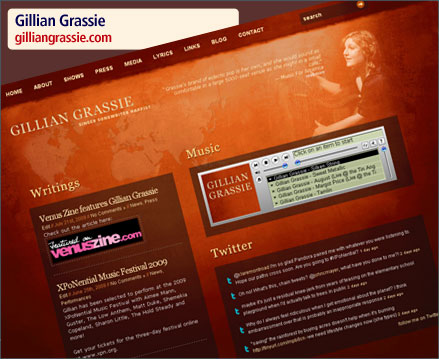 Gillian Grassie is a harpist/ singer-songwriter with a unique talent for jazz-inflected, indie pop. Classically trained in both harp and voice, Grassie is no Irish ballad singer. As Grammy-winner Marc Cohn once wrote: "It's rare to hear a young singer with such control and understated soulfulness, and even more rare to hear a harp provide such a deep percussive groove." Much like a fine wine might be said to have a hint of oak and currant, her music recalls greats like Ani DiFranco and Tori Amos, while foregrounding Grassie's own innovative style and melodic capabilities. On her two independently released albums, the 2005 EP To an Unwitting Muse and 2007's Serpentine, Grassie proves herself both an intelligent lyricist and talented harpist—turning the often understated instrument into a beautiful lead, which admirably takes the place so commonly occupied by guitar or piano.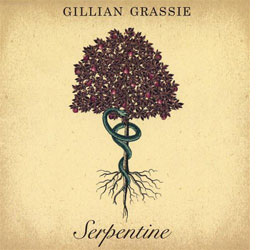 This coming year Gillian will be traveling around the globe meeting musicians, learning how new media is affecting their creative process and distribution, and even playing a few gigs (we can hope). But before crossing the "big pond" for her first stop in France, she needed a new website that would help her communicate with fans, friends and family back home, and document the upcoming journey with all its discoveries, big or small. We call it Lifestreaming these days. It's a way to weave together the threads of one's social media life—uniting Twitter, Facebook, YouTube, MySpace, Flickr, MP3s, blogging, email and more in a single place your audience can find it. Elegantly simple, extremely effective.
So, when you can, take a look, not so much at my work even, but how it allows Gillian's musical life and talent to come through online.
Services Provided:
Strategic consulting
Project management
Web design
Web development (CSS, XHTML & PHP)
Information architecture
WordPress installation and customization
WordPress theme customization
Training