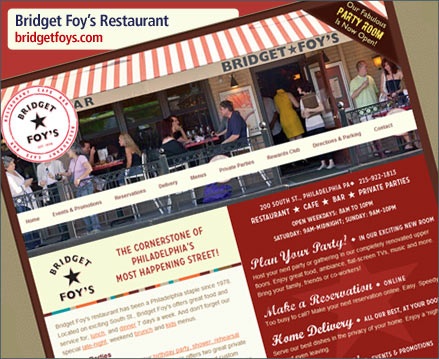 The Bridget Foy's restaurant has been a staple of South St. since well before I arrived in Philadelphia in the early 90s. I've always appreciated their tasty menu—from the calimari appetizers and burgers to the mahi mahi, grilled tuna and eggplant napoleon.
Recently, Bridget Foy's completely remodelled their two upper floors to create a new private party area for up to 100 people. Flat panel TVs, music equipment and a private bar are just some of the new features of this great space.
Be sure to drop by for Restaurant Week each winter Get a 4-course dinner ($35), lunch ($20) or something from special weekend brunch menu.
Services Provided:
Strategic consulting
Project management
Web design
Web development (CSS & XHTML)
Custom WordPress theme development
Information architecture
Search engine optimization
Web hosting