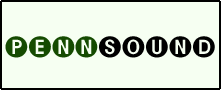 When professors Al Filreis and Charles Bernstein at the University of Pennsylvania conceived of creating an online archive of digital poetry readings, you might not have expected the project was destined to become a phenomenal success. After all, wasn't poetry something of a dying form, both a victim of a general decline in cultural literacy and the rise of Internet culture? Yet today PennSound boasts over 10,000 recordings of poetry and poetic performance works contributed by poets, fans, scholars and other like likely archivists. Attracting over 8 million free downloads a year, it dwarves many commercial ventures in online media.
What is more, the availability of PennSound's recordings opens the door for creative reuse, extensions and annotation of recorded poetry— potentially even reconsideration of the nature of the poem itself. Some of these uses follow—not an exhaustive list of course—but a few to get you thinking:
The Portable Poem: I've been particularly interested in lately is the easily toteable poem. Now it's possible to take a reading of say, William Carlos Williams' "Patterson: The Falls" up the Garden State Parkway for a little onsite listen.
The Poetry "Walk": Take fives poems, load them on your iPod. Select five locations that relate to the poems in interesting ways. Pick a closet, a bridge, an Eastern forest on a dew wet morning, a busy street. Listen. Contemplate. Take a friend next time. Discuss.
The Poetry Performance: A "poem" is clearly more than an anthologized text object, where is the body of the poem? Certainly the voice is at least as complex a semantic instrument as the written word. If I can enjoy, for example, six copies of Stravinsky's Le Sacre du printemps recorded by various orchestras, lead by different conductors, performed in several cities, for all their subtleties, can I not possibly have six recordings of a single poem reciting a single poem over 20 years in various states, for various audiences? To answer otherwise, it to say that music is sheet music.
The Wide Stage: While much of the PennSound archive is comprised of works by canonical poets, what shall become of this canon as over time when confronted with the ubiquity of recorded performance, non-canonical authors, sub-genres of performance poetry?
The Deep Archive: Previously archives of recorded material were managed much as other library materials. However, the potential for an online archive to reveal more complex relationship between its objects is very appealing. Map the social network of poetry readings, linkages of influence, support and collaboration.