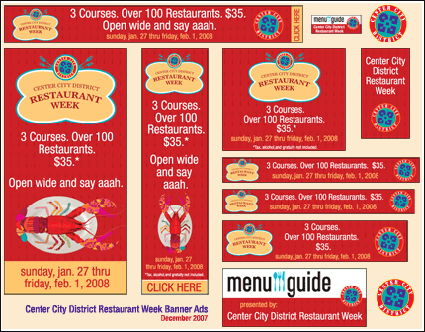 Center City District has organized the Center City District Restaurant Week event where participating Center City restaurants offer a "price fixed" multiple course meals to their patrons. It is a great chance to try out those new restaurants you've been thinking about. I usually get to a couple every Restaurant Week.
I've worked projects with the communications team at Center City District over the last five years (including leading them through three complete redesigns of their Web site). Recently, while working with SoftOrigins I completed a series of banner ads to support the 2008 Restaurant Week event. Although banner advertising has undergone evolution over the years, it is still an effective way to promote an event, Web site, or special offer. All banner ads where designed to work with the event's print advertisements and other collateral.
Download the full campaign sample sheet (PDF, 1.19 MB) and take a look at a few banners as they appeared on regional Web sites.