Many folks still own the popular Epson 1200U or 1200 Photo scanner. It's an oldie, but a goodie.
Years ago, I published a few notes on setting up the scanner for Windows 7 and Vista.
At the end of 2019 I built a new workstation which runs Windows 10. Now of course Epson still hasn't provided drivers specifically for the 1200U scanner, but there are working methods for getting the hardware up and running. These will involve downloading drivers for the Epson 2400 and then effectively installing them as the Epson Perfection 4990.
So here we go:
Step 1: Connect and Power Up Scanner
Make sure your Epson 1200 is connected to your computer via USB and powered on.
Step 2: Download Drivers and Utilities
Download the drivers and Epson Scan Utility for the Epson 2400 scanner from the Epson website:
https://epson.com/Support/Scanners/Perfection-Series/Epson-Perfection-2400-Photo/s/SPT_B11B152011
I use Windows 10 64-bit, so the correct set of files was:
Scanner Driver and EPSON Scan Utility v3.04A
02/06/07
14.77 MB
epson12180.exe
The download in a Zip archive of driver files and the Epson Scan utility.
When unpacked it should contain these files: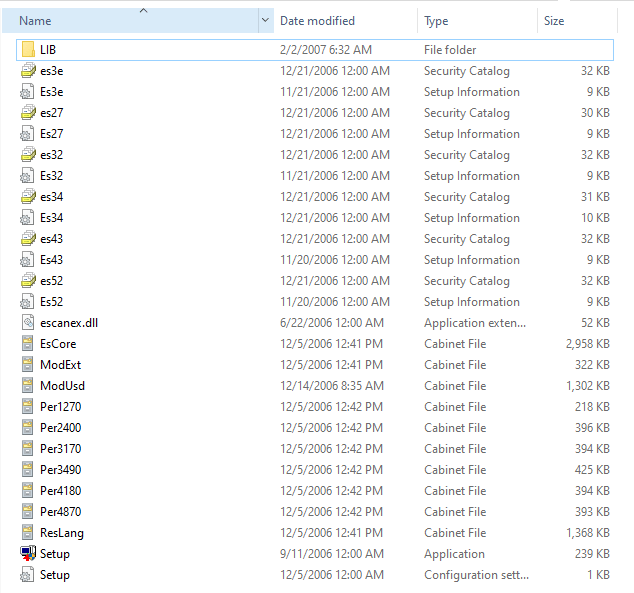 Step 3: Device Manager
Open the Device Manager control panel by typing Device Manager in the Windows 10 search bar and selecting it.
Find the Perfection 1200 listed under Other Devices.
Step 4: Update Driver
Right mouse click on the Perfection 1200 device and select Update Driver.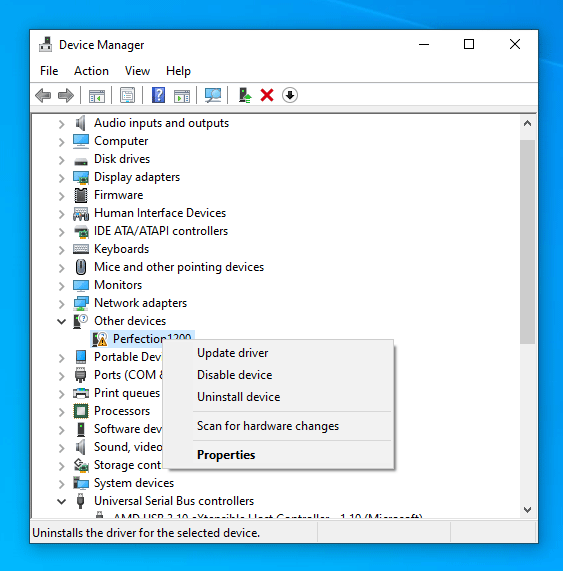 On the "How do you want to search for drivers?" panel, select "Browse my computer for driver software."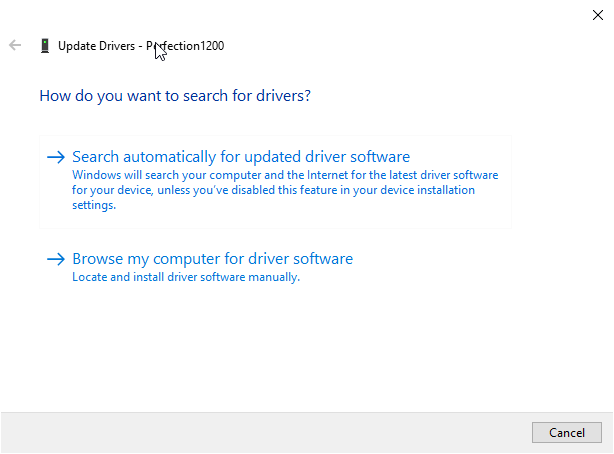 On the "Browser drivers on your computer" panel, select "Let me pick from a list of available drivers on my computer."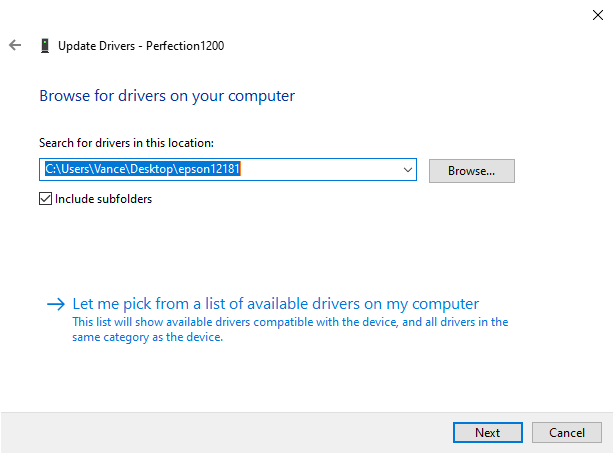 Find and select EPSON in the Manufacturer list.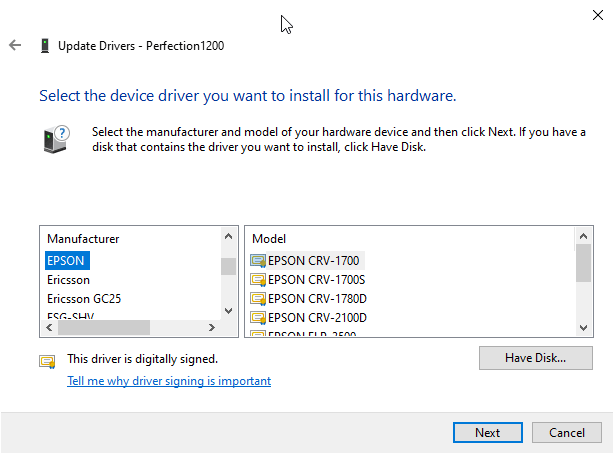 Locate the EPSON Perfection 4990 (not the 1200 or 2400) in the Model list.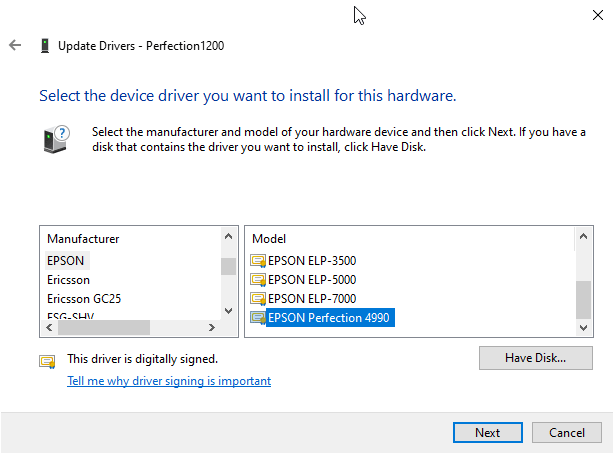 You should see the final prompt:
If you then return to the Device Manager, you should see the Epson Perfection 4990 listed under Imaging Devices.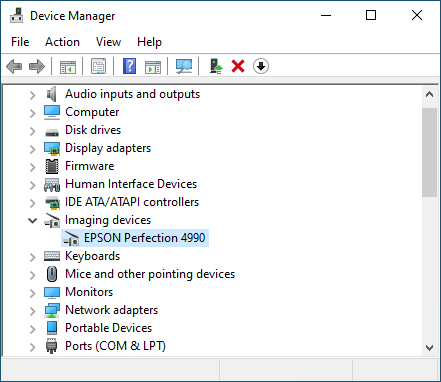 Step 5: Epson Scan Software
At this point, I had installed the Epson Scan utility (Setup.exe) included in the Epson 2400 driver bundle.
Note: the scanner must be turned on for the software to launch correctly.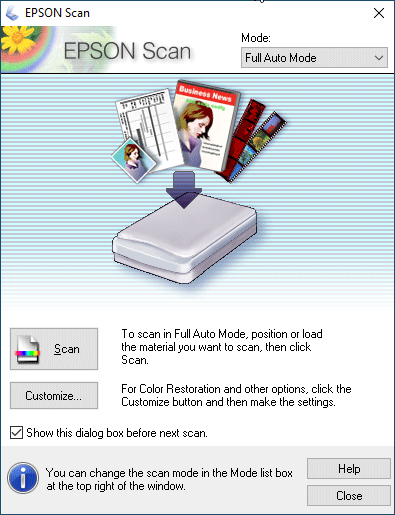 Step 6: Windows Scan
Alternatively, you can download the free Windows Scan software from the Microsoft Store.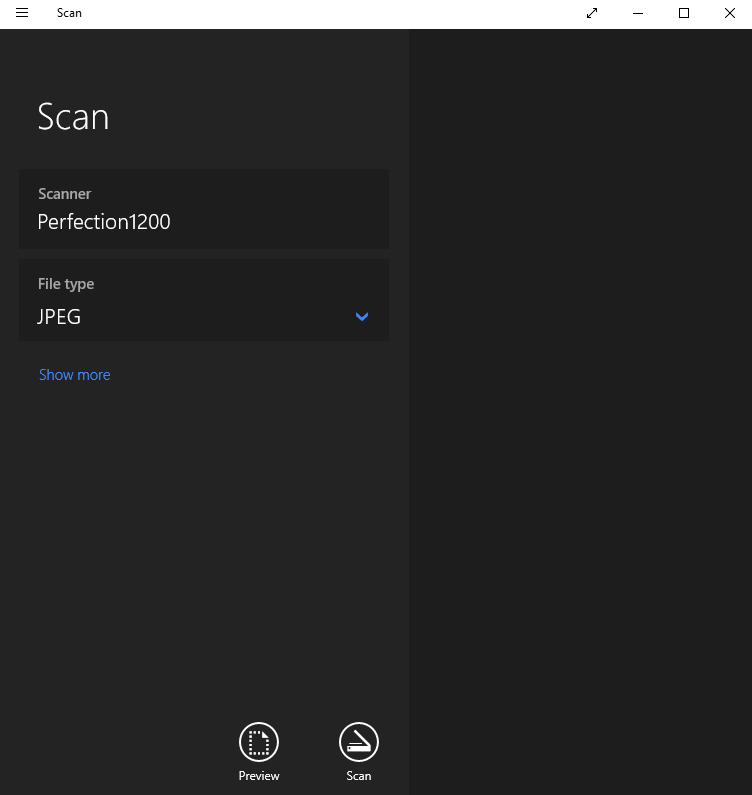 Step 7: Enjoy
Hopefully you'll be able keep your Epson 1200 scanner out of the landfill and get many more years of use out of it.